Build your planets on Gourmet Galaxy
Built on Ethereum.
Powered by Polkadot
about GOURMET
Gourmet Galaxy
is the first project
combining
NFTs, Yield Farming and Gamification.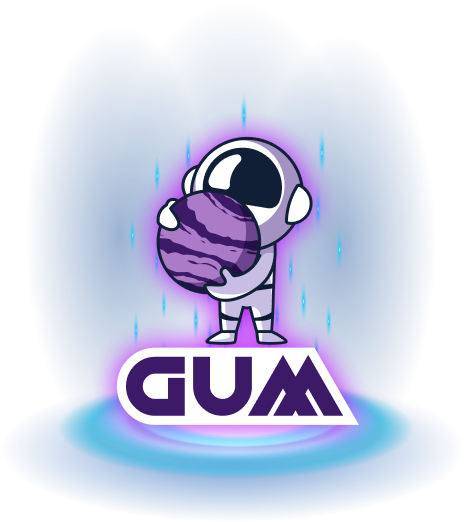 NFT Universe
Find abandoned planets along with planets containing vast amounts of food resources. The FOODmarket is the ideal place to purchase, sell, and trade your planets. Users also have the ability to make profits on the FOODmarket by selling what they have grown and mined on their planets.
Gourmet Exchange
Gourmet Exchange is a fully-decentralized protocol that provides automated liquidity on the Ethereum blockchain. In the near future, GUMSwap will migrate to the Polkadot ecosystem to enjoy faster transactions, higher levels of security, and fees cheaper than found on Ethereum.
Farming
Users can use GUM - ETH Pair to Farm
to get more GUM.
More baking material.
More planets!
FOOD Market
The official FOODmarket for the game Gourmet Galaxy. Here you can easily find GUM, materials and other various items used in game.
ROAD MAP
Stage 1 2020
1. Pre-production
2. Concept creation and Concept Document, build Game Plan
3. A Guide to Prototype Design
4. Development stage - Build assets
Stage 3 2020
1. Build FOODmarket Framework
2. Build NFT Universe
3. Build Automated Market Maker
4. Alpha platform Launch for Playing games
5. Start writing Whitepaper
6. Improvements to gourmet website - UX overhaul, more charts, faster loading, filters...
7. Complete the whitepaper
Stage 1 2021
1. MVP
2. Milestone - GUM token created
3. Integrate GUM tokens into the Gourmet Planet ecosystem and rebuild game logic
4. Start the token swap
5. Public Sales
6. Audited by Certik
7. Bounty programs to promote platform
8. Open yield farming
9. Marketing campaigns targeting crypto and gaming platform
10. Listing on exchange
Stage 2 2020
1. Game Design - UX Design Process
2. Programming game screens and programming planets
3. Build a complete basic game
4. Blockchain research and application of blockchain in games.
5. Research market
Stage 4 2020
1. Start developing blockchain and smart contracts - liquidity pool
2. Initiation of technology development for optimal blockchain design and privacy technology development
3. Private Sales completed
4. NFT Universe upgraded
5. Yield Farm code completed
6. Swap code completed
Stage 2 2021
1. Establishes business development department for GUM
2. More liquidity!!!
3. Building on the planets
4. Deployed with a strategic partner
5. Alpha Test Commander X and GUM Options
6. Beta Test Commander X and GUM Options
7. Officially launched Commander X and GUM Options
8. Milestone: Powered by Polkadot
9. Focus on developing and improving user experience on Polkadot
OUR TEAM
CEO
Thomas Johnson
Professional background in Computer and Computer Engineering, Hands-on experience with many projects such as Bitrix24, Celsius, and Civil Digital media. Knowledge of how to use surveillance communication and software. Extensive knowledge of computer software and computer security systems
Blockchain Programmer
blue op
Blue OP - a programmer from Japan. A friend of Kayra. Blue OP has had a successful career as an early employee at numerous high-profile companies. Previously, he led engineering teams on planets such as Inktomi, Paypal, YouTube, Google and Dropbox.
Senior Engineer
Pulkit Bhutani
Pulkit is an experienced hacking expert who has discovered a lot of bugs in application software and blockchain issues over the past 2 years
COO
Mr. Nam Nguyen
Founder of Tagchain.io and TAG Ventures
- one of the leading Ventures Fund in South East Asia. With Mr. Nam on board as our Chief Operating Officer, he will help Gourmet Galaxy expand to new markets and strengthen our company structure.

Advisor
Matt Armstrong
Matt is the Co-founder of Royale.
He is a very well known project manager and has a vast knowledge of decentralized web 3.0 blockchain interoperability projects that are performing well in the blockchain industry.
He is also the CEO of SEND - an innovative technology consulting firm that offers acceleration services.
AARON CHOI
Aaron is Vice President of Global Business Development at Kava.
He is also an expert in cryptocurrency, social media, mobile applications, digital advertising, and marketing.
With his wide range of knowledge and expertise, Aaron has developed relationships with many projects and helped them to experience explosive growth.
Working at Kava has helped Aaron dive deeper into blockchain technology, especially the DeFi Space and distributed/decentralized systems.
We have absolute trust in Aaron because he is an excellent consultant in the Regulatory landscape and fiat on/off ramps. GUM will be a new challenge for Aaron to expand the Marketing of GUM and User Acquisition of gamers.

Mr. Loi Luu
Founder and CEO of Kyber Network
- one of the most famous and efficient DEX platform on Ethereum.
He earned his PhD in Computer Science from National University of Singapore, where he worked to improve the base technical layers, namely decentralisation, scalability and security for the public blockchain infrastructure.
To date, his work benefits many blockchain companies and projects world wide and collectively these companies are worth more than tens of billions of US dollars. Loi was also selected in the Forbes 30 under 30 list for Asia, and Top 10 Innovators under 35 for Asia Pacific by MIT Technology Reviews.