Build your planets on Gourmet Galaxy
Built on Ethereum.
Powered by Polkadot
about GOURMET
Gourmet Galaxy
is the first project
combining
NFTs, Yield Farming and Gamification.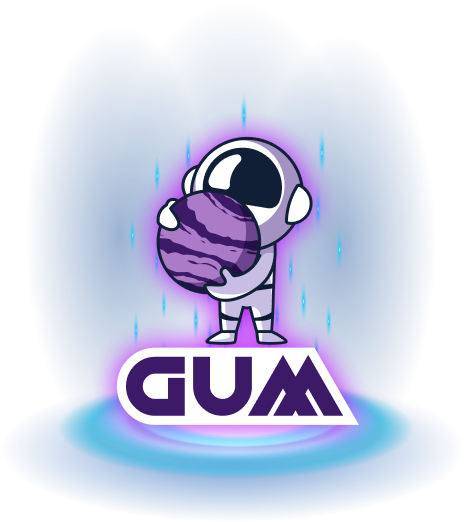 NFT Universe
Find abandoned planets along with planets containing vast amounts of food resources. The FOODmarket is the ideal place to purchase, sell, and trade your planets. Users also have the ability to make profits on the FOODmarket by selling what they have grown and mined on their planets.
Gourmet Exchange
Gourmet Exchange is a fully-decentralized protocol that provides automated liquidity on the Ethereum blockchain. In the near future, GUMSwap will migrate to the Polkadot ecosystem to enjoy faster transactions, higher levels of security, and fees cheaper than found on Ethereum.
Farming
Users can use GUM - ETH Pair to Farm
to get more GUM.
More baking material.
More planets!
FOOD Market
The official FOODmarket for the game Gourmet Galaxy. Here you can easily find GUM, materials and other various items used in game.
ROAD MAP
Stage 1 2020
1. Pre-production
2. Concept creation and Concept Document, build Game Plan
3. A Guide to Prototype Design
4. Development stage - Build assets
Stage 3 2020
1. Build FOODmarket Framework
2. Build NFT Universe
3. Build Automated Market Maker
4. Alpha platform Launch for Playing games
5. Start writing Whitepaper
6. Improvements to gourmet website - UX overhaul, more charts, faster loading, filters...
7. Complete the whitepaper
Stage 1 2021
1. MVP
2. Milestone - GUM token created
3. Integrate GUM tokens into the Gourmet Planet ecosystem and rebuild game logic
4. Start the token swap
5. Public Sales
6. Audited by Certik
7. Bounty programs to promote platform
8. Open yield farming
9. Marketing campaigns targeting crypto and gaming platform. There is Coinzino online casino that mainly specializes in casino games and slots. According to Coinzino im Test, it provides users with a massive selection of games and clever bonus offers.
10. Listing on exchange
Stage 2 2020
1. Game Design - UX Design Process
2. Programming game screens and programming planets
3. Build a complete basic game
4. Blockchain research and application of blockchain in games.
5. Research market
Stage 4 2020
1. Start developing blockchain and smart contracts - liquidity pool
2. Initiation of technology development for optimal blockchain design and privacy technology development
3. Private Sales completed
4. NFT Universe upgraded
5. Yield Farm code completed
6. Swap code completed
Stage 2 2021
1. Establishes business development department for GUM
2. More liquidity!!!
3. Building on the planets
4. Deployed with a strategic partner
5. Alpha Test Commander X and GUM Options
6. Beta Test Commander X and GUM Options
7. Officially launched Commander X and GUM Options
8. Milestone: Powered by Polkadot
9. Focus on developing and improving user experience on Polkadot